Toy Selection Considerations in this Section
Baby and Toddler Development
Before the age of 3, children's brains develop faster than at any other time of life. From 0-6 months, babies gradually discover the world around them with their senses. Tummy time strengthens neck muscles, hanging toys encourage reaching and gross motor development, colorful toys and rattles focus attention, and games like peek-a-boo begin the discovery of object permanence.
From 6-12 months, babies become more social, show emotions, and sometimes start to crawl or walk. Short attention spans need lots of stimulation. Active play like pushing/pulling, putting-in/taking-out, stacking/knocking-down, and back-and-forth encourages discovery of cause and effect.
From 1-2 years, toddlers are on the move. Toys should encourage movement, manipulation, repetition, imitation, and exploration. These activities form the building blocks of gross- and fine-motor skills, communication, curiosity, and even social interactions.
Whether you're looking for a gift for a baby shower or special birthday, or simply a safe way to keep your little one busy, we have what you need.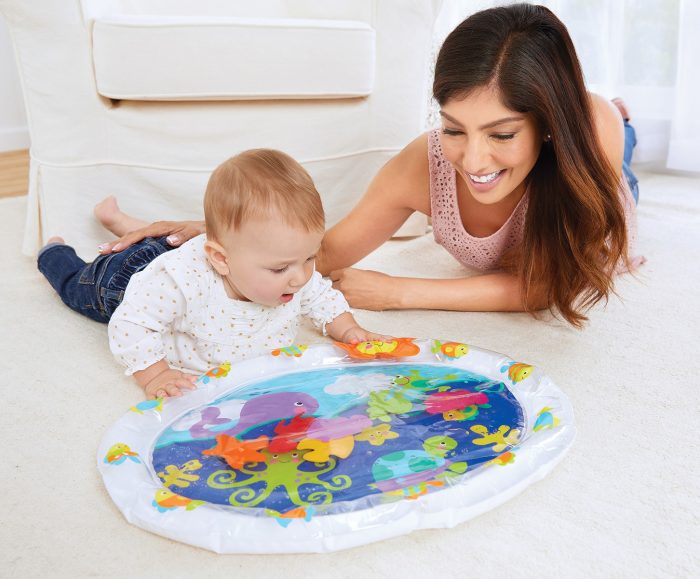 Delight the senses of sight, sound, and touch with lights, textures, contrasting colors, rattles, music, and mirrors
Encourage discovery of object permanence and cause and effect
Strengthen muscles through movement and gross motor development
Foster discovery and exploration
Expand vocabulary through reading or play
Books for Your Baby and Toddler
It's never too early to start reading books to your child! We carry a variety of great books for these ages, including finger puppet books, chew- and rip-proof books, classic stories, and books with textures on each page to make the experience interactive and exciting for babies and toddlers. Pictures stimulate their minds, spoken words grow their vocabulary, and regular reading fosters literacy from an early age.